Magnets BIZ | Symbol magnets, Set of 4
- suitable for glass magnetic boards -
Metal magnets with a clear message. With their high adhesion force suitable for glass magnetic boards.
These stylish noticeboard magnets have a professional black and white painted finish and a felt cover on the magnetic face which makes them perfect for delicate surfaces as they won't scratch. These strong, circular noticeboard magnets are specially designed to be used on delicate surfaces. Perfect for retail displays, fridges and glass noticeboards each magnet measures 23mm in diameter and will hold up to 8 sheets of A4 copier paper against a noticeboard or fridge.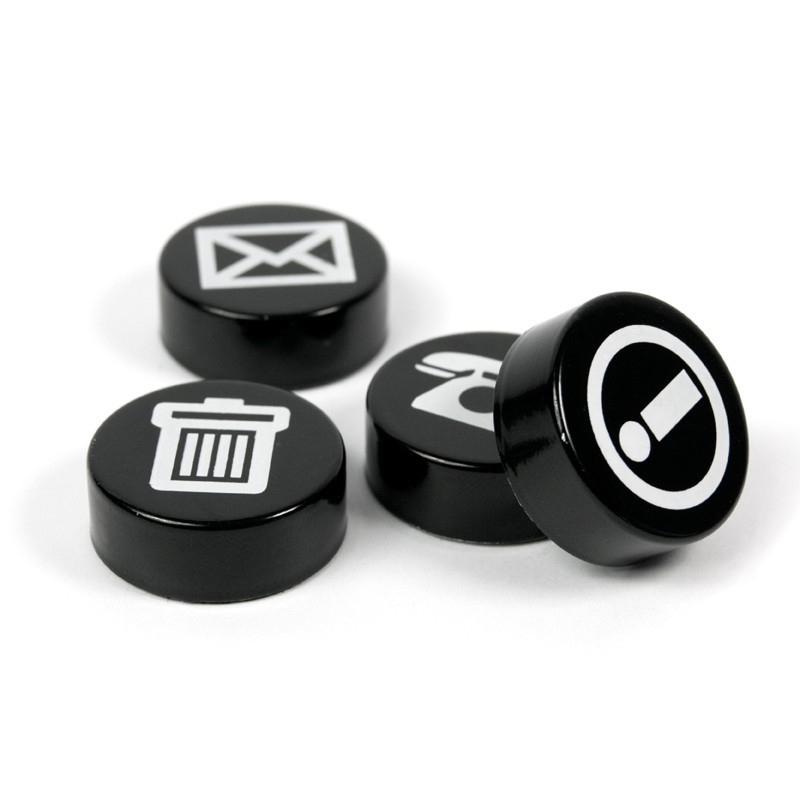 Manufactured after 2013/01/01, The object of the declaration described above is in conformity with DIRECTIVE 2011/65/EU OF THE EUROPEAN PARLIAMENT AND OF THE COUNCIL an the restriction of the use of certain hazardous substances in electrical and electronic equipment.
Set of 4, Trash/Important/Mail/Phone
Ø 23 mm | height 9 mm
Black/White
Each disc includes a strong magnet with a felt backing so it won't scratch
Professional and discreet black painted finish with printed icons
Technical Specifications:
| | |
| --- | --- |
| Magnosphere - Artikel number | 1553 |
| Form / Model | Magnets BIZ |
| Material | Black painted finish with printed icons |
| Dimension | Ø 23 mm | height 9 mm |
| Color | Black / White |
| Tolerance | + / - 0,1 mm |
| Application | Suitable for glass magnetic boards |