Assorted Popular Shape Office Magnets - Brick
Set with 4 pcs. sorted magnets 4 colors | 15mm x 15mm x 11mm
These great novelty magnets look just like the coloured building bricks we all used to love as kids. They can add a splash of colour to any noticeboard, display or fridge and what's more, each magnet can hold an impressive five sheets of A4 paper against a steel surface.
These instantly recognisable, classically designed building brick magnets are great fun and add style to any noticeboard, display or fridge. Whether you want to brighten up your workspace or are looking for a fun way to display your family snaps to your fridge or noticeboard these brick-shaped magnets will do just the trick. Each brick has a strong magnet on the reverse and is capable of holding up to five sheets of regular A4 copier paper against a steel surface.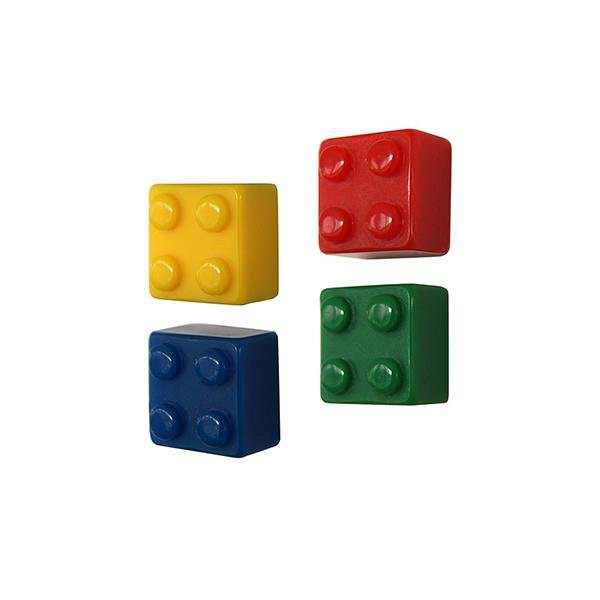 Please note: Not suitable for small children (small parts) and not strong enough for magnetic glass boards
4 pack of colourful brick magnets.
Strength: approx. 0.4 kg.
Size: 15 x 15 x 11 mm.
Powerful magnets in colourful plastic, shaped as small bricks. Mixed colours, 1 of each in every pack.

Manufactured after 2013/01/01, The object of the declaration described above is in conformity with DIRECTIVE 2011/65/EU OF THE EUROPEAN PARLIAMENT AND OF THE COUNCIL an the restriction of the use of certain hazardous substances in electrical and electronic equipment.
Powerful magnets in colourful plastic, shaped as small bricks. Mixed colours, 1 of each in every pack.
4 pack of colourful brick magnets
Each magnet measures approximately 15mm x 15mm x 11mm
Each magnet will hold up to five sheets of A4 paper against a noticeboard or fridge
4 assorted colours
Technical Specifications:
| | |
| --- | --- |
| Magnosphere - Artikel number | 1600 |
| Form / Model | Office magnet |
| Material | Neodymium |
| Housing | Resin |
| Dimension | 15mm x 15mm x 11mm |
| Color | 4 assorted colors |
| Tolerance | + / - 0,1 mm |
| Adhesion | 5 sheets of A4 paper |