Assorted Popular Shape Office Magnets - Dice
Set with 4 pcs. sorted magnets 4 colors | 15mm x 15mm x 15mm
Bring your noticeboard to life with these magnetic dice. These novelty magnets can each hold an incredible seven sheets of A4 paper against a metal surface.
These novelty magnets are designed to be used against a noticeboard and fridge, rather than being used for actual board games. Each magnet looks and feels like the real thing and is sure to add some colour and life to your noticeboard or displays. They are easy to handle, remove and reposition and make a great gift for anyone who has a home office or display board.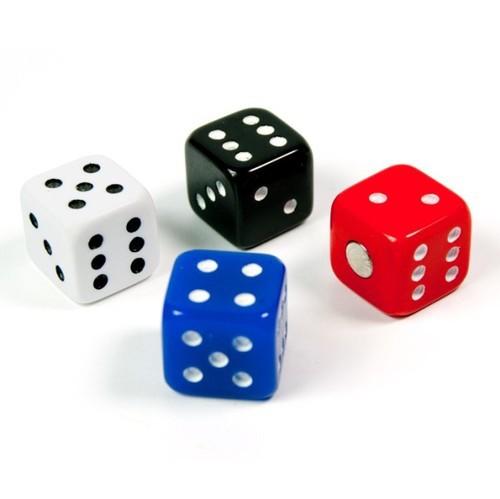 Manufactured after 2013/01/01, The object of the declaration described above is in conformity with DIRECTIVE 2011/65/EU OF THE EUROPEAN PARLIAMENT AND OF THE COUNCIL an the restriction of the use of certain hazardous substances in electrical and electronic equipment.
Set of 4
Each magnet measures 15mm x 15mm x 15mm
Each die has a magnet on one face and can hold seven sheets of A4 paper against a noticeboard or fridge
4 different designs
Easy to handle shape
Technical Specifications:
| | |
| --- | --- |
| Magnosphere - Artikel number | 1555 |
| Form / Model | Office magnet |
| Material | Neodymium |
| Housing | Resin |
| Dimension | 15mm x 15mm x 15mm |
| Color | assorted colors |
| Tolerance | + / - 0,1 mm |
| Adhesion | 7 sheets of A4 paper |