Modular Magnetic Pen - Office, School & Home
This modular pen will inspire you at work, school or home. If you enjoy tinkering with things or are fascinated with the power of magnets, then this product is for you. We have found many fun and functional ways of using the Pen and we are really excited to see what you will come up with.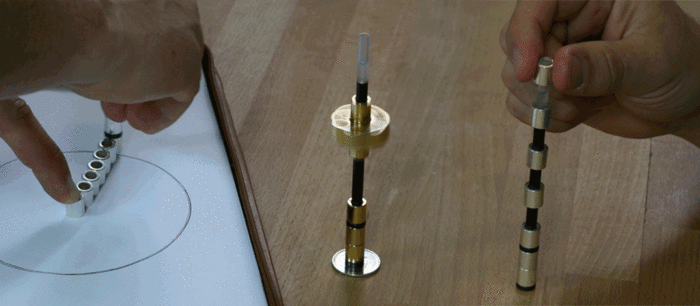 The modular magnetic pen comes in two high quality finishes: Pure Silver, purer than sterling (product will tarnish if left unused, any silver polish will restore finish) and 24 Karat Gold, an elegant deep yellow.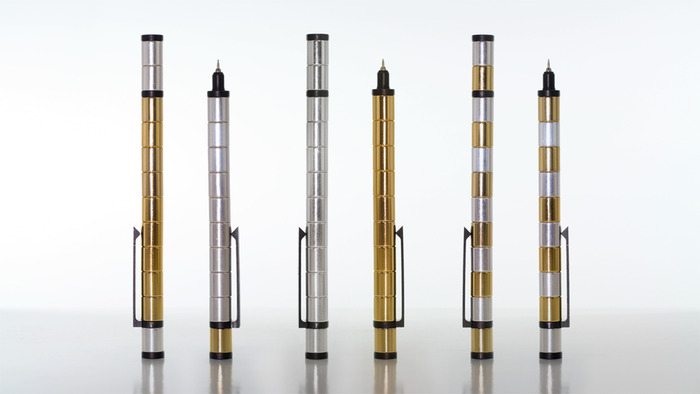 Using the silver and gold magnets the modular magnetic pen lends itself very well to the concept of modular customization; the ability to transform a standard product into something different and unique. Modular customization is often talked about in the design world but rarely executed. The pen accomplishes this by having a limited amount of unique components that repeat throughout each product.
Specifications:

Magnets: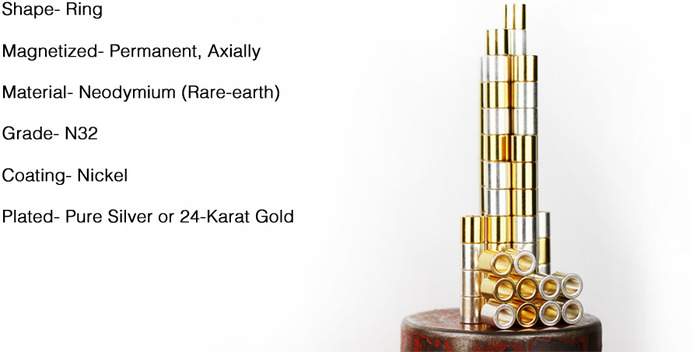 Components:

There are four unique components excluding the magnets: Cap, Clip, Tip and Stylus. These components are not magnets they are made from steel and coated with a black zinc finish. The components stick to the magnets due to their large content of nickel and iron.
Rubber Components:

Stylus rubber tip - The stylus tip has been sourced from a leader in stylus tip technology. This is one of the narrowest tips available on the market with a width of only 5mm. The narrowness of this tip allows for greater accuracy in writing and also allows for it to fit inside a magnet cap for protection. The metal stylus component fits deep into the rubber tip to give the tool good pressure on your touch screen devices. The rubber tip can also be removed and replaced if needed.
Silicone rubber tip protector - This component gets inserted into the top magnet in the cap. The tip of the gel pen nests into the silicone to prevent it from drying out or leaking. This component is removable and can fit inside any of the magnets. Every pen comes with one silicone rubber tip protector.
Refill/Cartridge
Pilot Hi-tec-C - Each pen comes with one Pilot Hi-tec-C pen cartridge, either black or red. This pen is also known as the Pilot G-tec-C4. These are a excellent pens for sketching, drawing and daily use.
Applications: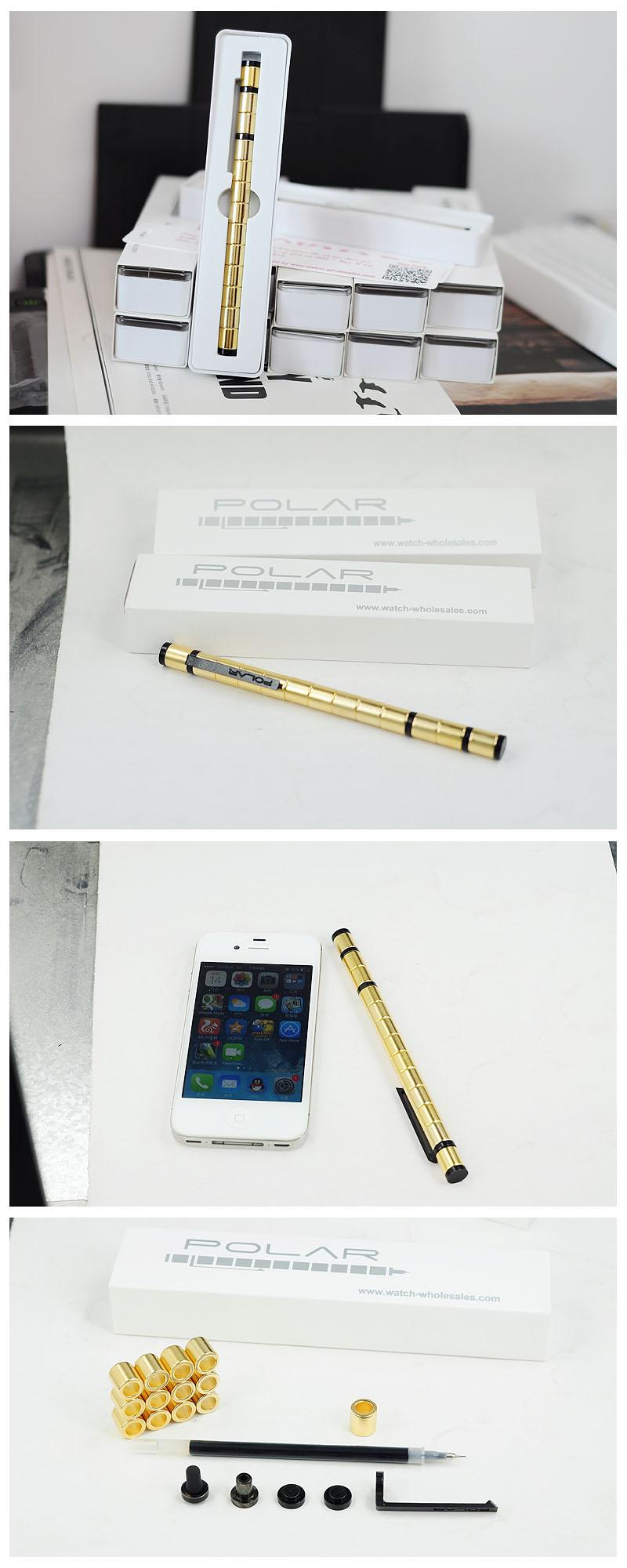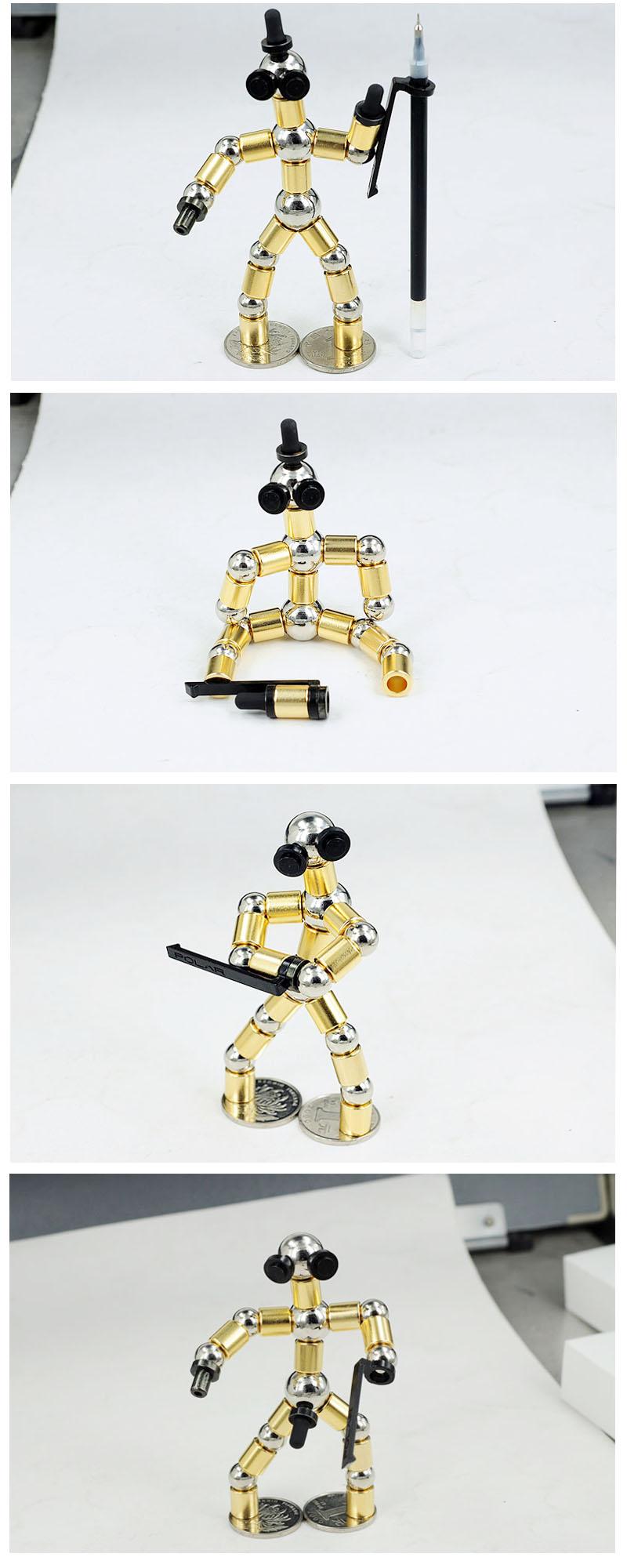 FAQ
Are the pens really true Silver and 24k gold?
Yes, the magnets are made from neodymium, rare earth and then coated in Nickel and then plated in real Silver or real 24K gold.
Will this pen have any affect on my electronics or my credit cards?
The magnets have no affect on cell phones, tablets and modern laptops with flash storage. I would not recommend putting them in direct contact with any spinning harddrive. Having said that, I have kept two pens in my laptop bag for a few months, with an external spinning hard drive, and have had no ill effects.The pens do not have an effect on modern day plastic credit cards, such as VISA and Mastercard. Yet, it is not recommended to put the pens in contact with disposable cardboard magnetic strip cards, such as the ones used in London's transit system.
How durable are the magnets?
It is true that rare earth magnets can be very brittle. As the size and the strength of the magnets increase the more brittle the magnets get. I have done considerable research into the mass to strength ratio of rare earth magnets used in this pen. As a result of my research, I chose the N-32 strength magnets opposed to stronger magnets such as the N-52 . The N-32 magnets are still very strong but not nearly as brittle. These magnets still have the possibility of chipping we ask that you use the magnets with care. Two individual magnets should never be allowed to snap ogether from far distances.
The magnets drop on the ground broken, can I replace them?
Yes, you can buy all accessories in our shop, such as refill, rubber stylus, tips, clip, caps, magnets and ball set.