Retrieval Recovery Magnet
This model is perfect for collecting and separating ferrous items (nails, swarf, washers, screw, bolts). The collected items can be released by a simple movement of the incorporated handle. Tearing power: kg 30. Scrap-iron quantity: kg 1.
Technical Information:
This lightweight unit contains powerful ferrite magnets and is capable of attracting small ferrous components to the base of the tool.
Release of attracted components is achieved by simply raising the built-in handle.
The smooth sides of the unit mean that burrowing into loose materials and stillages is quick and easy.

Uses and Applications:
The Hand Magnet is designed for sorting, separating of non-ferrous/ferrous material - eg aluminium/steel can sorting.
The Hand Magnet is particularly useful for picking many small part like nails or tacks that may have been spilt.
Extracting swarf from coolant tanks or foundry sand.
| | Length (mm) | Height (mm) | Width (mm) | Max Pull (kg) | Weight |
| --- | --- | --- | --- | --- | --- |
| | 121 | 41 | 235 | 1.15 | 2750 grams |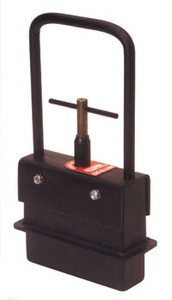 Dimension: Length 121 mm x Height 41 mm x Width 235 mm
Tool Body Material: Metal
Clamping Force: 1.15 kg
Weight: 2.75 kg
| | |
| --- | --- |
| Item Number: | 1372 |
| Packing quantity: | 1 Recovery Magnet |
| Dimension: | Length 121 mm x Height 41 mm x Width 235 mm |
| Tool Body Material: | Metal |
| Color: | red |
| Weight (kg): | 2,75 kg |
| Securing | magnetic tool holding |