Retro Fantasy magnets, 6 pack
The magnets are round with a glass dome effect. Great retro look for your fridge. The magnets have a small power magnet attached to the back. Colourfull retro magnets for the fridge.
Smarten up your home or office noticeboard and make a statement with these groovy retro magnets. Each strong magnet can hold an impressive five sheets of A4 paper against a whiteboard or fridge. These bold magnets will make a statement on any noticeboard. Perfect for the home, office or classroom each magnet in the pack is capable of holding an incredible five sheets of A4 copier paper against a magnetic whiteboard or fridge. They are easy to handle, remove and reposition and make a perfect gift for anyone who has a home office or display board.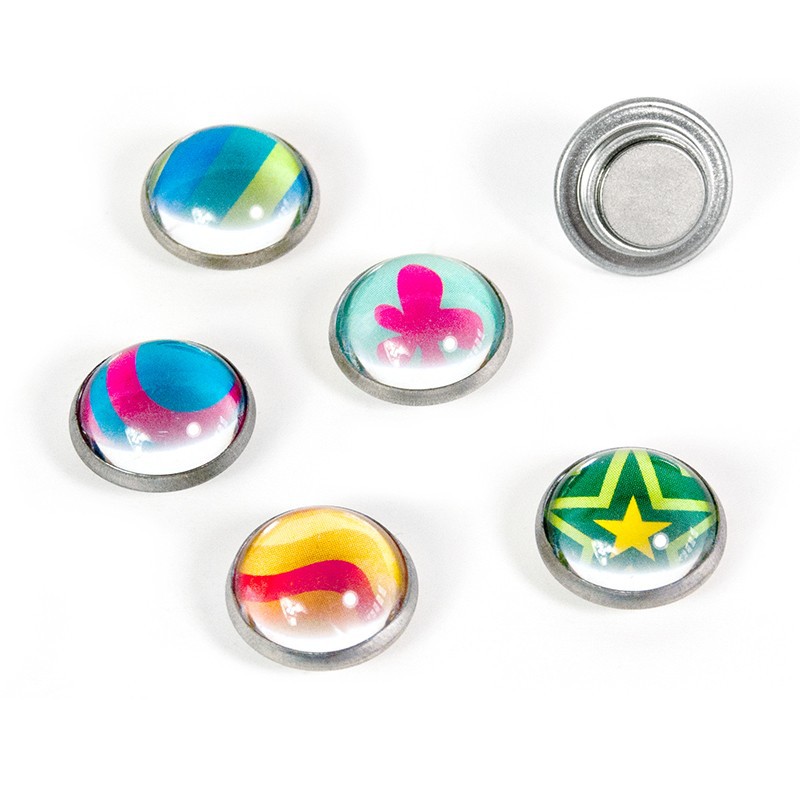 Please note: Not suitable for magnetic glass boards.
set of 6, dome shaped for easy handling
Strength: approx. 250 gr.
Size: Ø17 mm. (height 9 mm.).
Pack of 6 marble magnets
Each magnet includes a small strong magnet and can easily hold five sheets of A4 paper against a noticeboard or fridge
Technical Specifications:
| | |
| --- | --- |
| Magnosphere - Artikel number | 1552 |
| Form / Model | Magnets Argus |
| Material | Round with a glass dome effect |
| Housing | Galvanized steel |
| Dimension | Ø17 mm - height 9 mm |
| Color | 6 different colors |
| Tolerance | + / - 0,1 mm |
| Strength | 250 g |
| Application | Smarten up your home or office noticeboard. Not suitable for magnetic glass boards. |