Magnetic Cloth Rail - w/ counter magnets
Place the Magnetic Cloth Rail in the sink to dry your dishcloth quickly without messy looking.
Just a minute, the rail can be attached to your sink with 2 powerful counter magnets at the back. Absolutely no tools are needed. You only need to do the installation the first time. This product is easy to attach and remove.
It comes with stainless steel sink version and special sinks version, e.g. Corian and Silgranit, which require extra powerful counter magnet, as well as 23 cm and 37 cm in length to suite various size of sink
It is also ideal for hanging tea towels, pot holders etc. by attaching to your fridge, gas barbeque or cooker without counter magnets.

The stainless steel rail for sinks is set up without tools or drilling: one fixes it by positionning the rail inside the sink and 2 counter-magnets on the external side of the sink
NB 1 - the external side of a built in sink can be difficult to access and we recommend your think carefully about the place you want to position the sponge holder before starting to set it up.
NB 2 - most sinks are made of stainless steel which is not (or very slightly) ferromagnetic: this magnetic system has a counter-magnet to place opposite the rail magnets. Does not function on porcelain sinks (too thick).
| | |
| --- | --- |
| | |
| 1.separate both magnets on the rail from their counter-magnets (it is easier to make them slide) | 2. place the rail on the inside of the sink and position the counter-magnets on the external side |
| | |
| | |
| 3. precisely position the rail in the desired place simply by manipulating it (the counter-magnets are drawn through the sink) | 4. to block the counter-magnets once the ideal solution has been chosen, use the stickers included and fix to the counter-magnet lugs |
Magnetic Cloth Rail - Flexible version with magnets attached Pairs of Counter Magnets and stickers for attaching to the back of counter. It is used for steel sinks. Instructions is enclosed
Dimensions: Length 23 cm, Depth 4 cm
Color: stainless steel (grey plastic)
Materials: stainless steel, PE and powerful neodymium magnets, easy set up with no drilling, for stainless steel sinks, does not function on porcelain, Corian™ or granite sink
| | |
| --- | --- |
| Item Number: | 1334 |
| Packing quantity: | 1 Magnetic Cloth Rail |
| Dimension: | Length 23 cm, Depth 4 cm |
| Color: | stainless steel (grey plastic) |
| Material: | stainless steel |
| Securing | magnetic |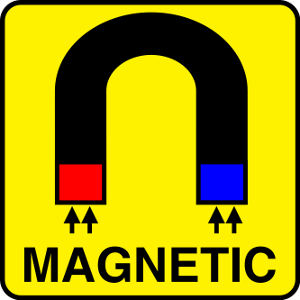 Spültuchhalter magnetisch flexibel mit Gegenmagneten für Edelstahlbecken - Vorstellung

Die Gegenmagnete von der Halterstange lösen. Platzieren Sie den Halter in der Spüle und die Gegenmagnete auf der Rückseite der Spüle. Die Magnete ziehen einander durch die Spülbecken wand an und können so richtig platziert werden. Soll der Halter fest angebracht werden, müssen die Gegenmagnete mit den beiliegenden Haftklebern angeklebt werden.