Telescopic Magnetic Retrieval Pen Pick-Up Tool | pull 1,5 kg
- A 'must' for any toolbox to recover stray nuts, bolts and even cutlery! -
Telescopic Magnetic Retrieval Pen Pick-Up Tool that extends to 640mm in length. The Magnet is plated with 3 layers of protective coatings - Nickel + Copper + Nickel (Ni-Cu-Ni) and the pen body is plated with chrome. Each retrieval pen can support a steel weight of up to 1kg vertically from the magnetic face and have a maximum operating temperature of 80 degrees C.
Light weight, slim line, pocket sized telescopic magnetic retrieval pen which has a powerful rare earth 6mm diameter N42 neodymium magnet on the tip and pulls up to 1,5 kg.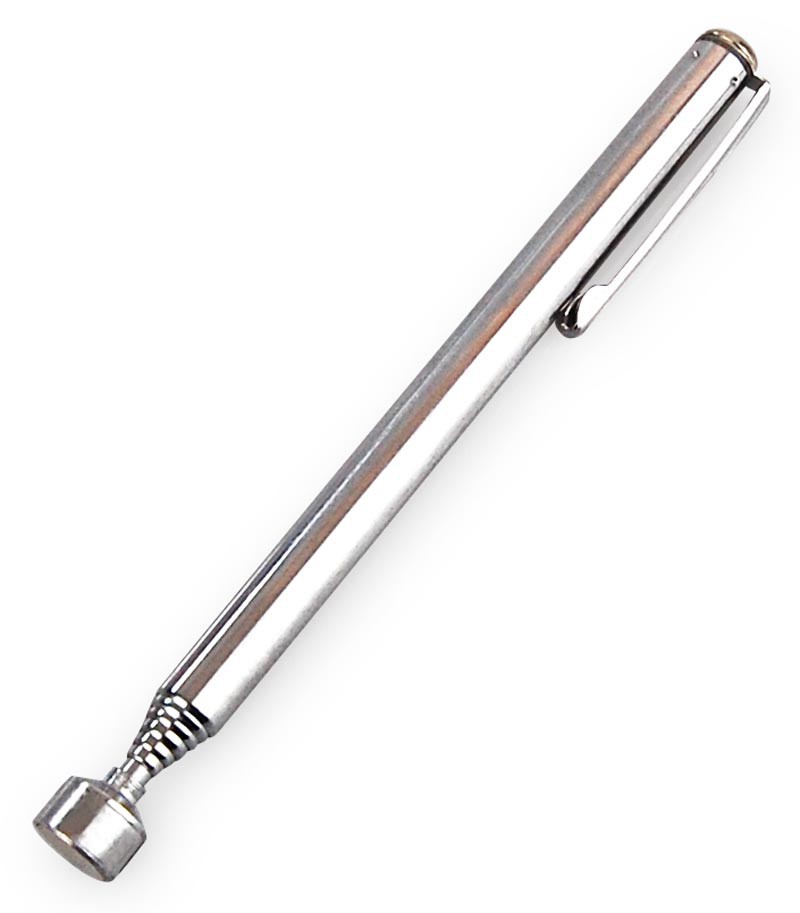 Extends From 130 mm To 640 mm
Supports up to 1,5 kg
Ideal For Recovering Mild Steel (Ferromagnetic) Objects
Retrieve Keys, Nuts & Bolts etc. - A Must For Any Toolbox!
Designed For Precise Retrieval From Areas Fingers Can Not Reach

Manufactured after 2013/01/01, The object of the declaration described above is in conformity with DIRECTIVE 2011/65/EU OF THE EUROPEAN PARLIAMENT AND OF THE COUNCIL an the restriction of the use of certain hazardous substances in electrical and electronic equipment.
Extends From 130 mm To 640 mm
Supports up to 1,5 kg
Ideal For Recovering Mild Steel (Ferromagnetic) Objects
Retrieve Keys, Nuts & Bolts etc. - A Must For Any Toolbox!
Designed For Precise Retrieval From Areas Fingers Can Not Reach
Technical Specifications:
| | |
| --- | --- |
| Magnosphere - Artikel number | 1297 |
| Form / Model | Telescopic Magnetic Retrieval Pen Pick-Up Tool |
| Material | NdFeB (neodymium-iron-boron) - Stainless steel |
| Length | 130 mm |
| Length extended | 640 mm |
| Adhesion *N | 1,5 kg - 3 lbs. |
| Weight | 22 g |
| max. Operating temperature | 80°C |