Price development for neodymium magnets
Information Permanent Magnet
Magnet Questions & Answers
Magnosphere strong magnets
Protection of personal data
Are your products REACH and RoHS compliant?
So that you can immediately recognize whether or not a product is REACH and RoHS compliant, we added the relevant logos to our products. The REACH logo shows that no substances of very high concern (SVHC) were used. The RoHS logo conveys that the product does not contain RoHS listed substances above the threshold value.
REACH regulation
REACH regulation 1907/2006/EC addresses the safe use of chemicals put on the market and their possible effects on the environment and consumers. As a producer of magnets and magnetic products, we are the first company within the industry to take the initiative to fully implement all aspects of REACH.
We welcome this approach of reversal of the burden of proof for the safe handling of products and are committed to our responsibility regarding the safety of the chemicals in question as well as the safe use of products put on the market by us.
We not only pledge to comply with all legislative regulatory requirements but to take it even a step further. We anticipate and pay close attention to any legislative changes that could impact us or our products in the future and actively discuss these issues with our suppliers. In addition, we implemented internal measures to fulfil such product requirements proactively and efficiently..
Registration
In accordance with EU-regulation REACH (EC 1907/2006), we duly registered all relevant substances contained in our magnets and evaluated their safety. Based on this established and comprehensive database these substances were classified as non-hazardous.
Substances of very high concern (SVHC)
By carefully selecting our suppliers, we ensure that our magnets and other products do not contain any substances of very high concern (abbreviated as SVHC). Our entire product range is reviewed twice a year and we are committed to offering our customers only products that meet the highest quality standards..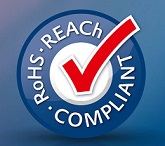 Our REACH logo
To enable our customers to immediately recognize REACH compliant products, we introduced the REACH logo pictured here. It conveys that all chemicals used were properly registered and that the product does not contain any substances of very high concern (SVHC).
RoHS directives
The abbreviation RoHS stands for "Restriction of Hazardous Substances", or more specifically for "Restriction of the Use of certain Hazardous Substances in Electrical and Electronic Equipment". The relevant EU directive 2011/65/EU was revised in 2011 (2011/65/EU, RoHS 2) and supplemented in 2015 with EU 2015/863, RoHS 3. Since 2006, this directive is valid for the entire EU territory and regulates the sale of electrical devices containing lead, cadmium, chrome VI, mercury, certain brominated flame retardants or phthalates above specified levels. Electronics manufacturers are obligated to prove that their products are RoHS compliant.
Substances listed in the RoHS directive are extremely hazardous to the environment and the RoHS legislation aims to eliminate their use in products. We fully support this approach and regularly check our merchandise. All items and products delivered by Magnosphere meet all requirements of the RoHS directive and all subsequent directives.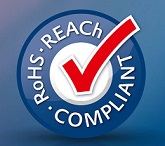 Our RoHS logo
To enable our customers to immediately recognize RoHS compliant products, we introduced the RoHS logo pictured here. It conveys that the product in question does not contain RoHS listed substances above the threshold value.
---
We ship our Magnets worldwid via Sea or Air Shipment
---
Buy Neodymium Rectangular Magnets at Magnosphere and get a better deal!
Magnosphere produces magnets at great prices, produced and delivered on time for all areas of industry, automotive, aerospace, electronics as well as in the design sector, trade fair construction, offices and for the home.
We are an ISO certified shop and carry the Trusted Shops seal. We have successfully completed more than 300,000 orders and offer our ever-growing customer base 24/7 customer service.
All items are available for immediate delivery in large numbers with daily dispatch. Our selection is your win! Thousands of satisfied customers! Buy from a company with the highest quality standards and customer service with flexible and diverse payment options and conditions.
We can also custom manufacture these to fit your exact specifications using our in-house global manufacturing facilities and team of experienced engineers. Need high quantities of magnets at the lowest and fairest price possible? Just let us know what you are looking for and contact our Customer Care Team by sending us a request for quote! We'll work with you to determine the most economical way of providing you with what you need.
Trust in our experience and convince yourself of our service and our products and we look forward to welcoming you to our magnet shop at Magnosphere. You are welcome to contact us by eMail: info(at)magnosphere.co.uk. Available 24/7 x 365 and we are also there for you on public holidays! Or just give us a call.
---
ROHS-Directive

Magnosphere conforms to the RoHs directive and the Reach and PFOS regulations. Directive 2002/96 / EC of the European Parliament and of the Council, of January 27, 2003, on waste electrical and electronic equipment (WEEE).
---

We are very proud to offer excellent customer service. We know that without our clients, we would not be here. If you have any questions about your order or something else, please call or email us!: info(at)magnosphere.co.uk
24 / 7 x 365 Including holiday periods! Our customer service team is available to help you!