Price development for neodymium magnets
Information Permanent Magnet
Magnet Questions & Answers
Magnosphere strong magnets
Protection of personal data
---
Super Strong Neodymium Magnets
Neodymium is a rare earth metal and a special material: Combined with iron and boron it creates the currently strongest permanent magnets in the world. They can be produced in various shapes (discs, blocks, cubes, rings, rods and spheres). Their nickel-copper-nickel coating lends them an appealing silver surface. Hence, these special magnets are great as gifts for arts and crafts fans and model makers.
Super-strong adhesive force
Suitable for small spaces (miniaturisation)
Even the smallest neodymium magnets are just as strong as larger common magnets
---
Neodymium super magnets: The strongest magnets in the world
You might ask yourself: What makes a neodymium magnet a super magnet? And: Isn't a cheaper ferrite magnet sufficient for my project?
The special combination NdFeB leads to a high adhesive force even in small magnets. Hence, ferrite magnets of the same dimensions are much weaker.
We recommend super magnets if you need a small and light product that is also aesthetically pleasing with its even silver surface. The rare metal makes it a little bit more expensive though.
Neodymium Magnets (Rare Earth)
(NdFeB) Neodymium, a rare earth magnet, is made up of Neodymium Iron and Boron and is moderate in price. With poor corrosion resistance, a neodymium iron boron magnet is usually plated or coated (Examples: Nickel Plated, Epoxy Coated, Parylene Coated). Neodymium magnets are offered in a range of operating temperatures depending on your application (80°C to 200°C). Premium Neodymium magnetic materials capable of operating above 120°C can become quite expensive. This permanent super magnetic material has many intellectual property rights associated with it and there are a limited number of licensed manufacturers in the world. Many infringing manufacturers from the Pacific-rim dump subpar magnetic material into the Western markets. This magnetic material is extremely powerful and it has allowed for the downsizing of many products from HDD (Hard Disc Drives) and motors to novelties and audio devices. Neodymium permanent magnets usually offer the best value when comparing price and performance.
What is a neodymium magnet? Neodymium magnets are strong permanent magnets, and part of the rare-earth magnet family. They are also referred to NdFeB magnets or NIB, as they are composed mainly of Neodymium (ND), Iron (Fe) and Boron (B).
Why are neodymium magnets so strong? Neodymium magnets are considered strong because they resist demagnetization and have a high saturation magnetization. Although neodymium magnets are more costly than ceramic magnets, these super strong magnets pack a powerful punch! With neodymium magnets, you can use a smaller sized magnet to achieve the same objective. This can potentially lead to a lower overall cost, as the size of the entire device can shrink.
How long do neodymium magnets last? Neodymium magnets will likely lose less than approximately 1% of their flux density over a 100-year period if their physical properties remain intact.
What are the main characteristics of neodymium magnets? Neodymium magnets are far less subject to cracking & chipping and less costly than other rare-earth magnetic material such as Samarium Cobalt ("SmCo"). They are however, more sensitive to temperature. For applications where this is critical, SmCo may be the better choice, since its magnetic properties are very stable at elevated temperatures.
What grades & shapes are available for neodymium magnets? Grades 30-52 of Neodymium magnets are available in disc, rectangle, square and rod shapes, and can be custom manufactured to meet your specialty requirements.
What are some common applications for neodymium magnets? Neodymium Magnets are typically used in audio equipment (microphones, headphones, and loudspeakers) hard disk drives, pumps, bearings, MRI scanners, electric vehicles, wind generators, high performance motors, actuators, magnetic therapy, anti-lock braking systems, levitation devices, door latches, model making, arts & crafts, home improvement (DIY-fixing furniture, hanging pictures etc.) POP displays & more.
What are the best temperatures to use for neodymium magnets? Neodymium magnets should not be used in temperatures above 130° C(240° F) without careful magnetic circuit design. Please contact us to discuss your application with our engineers if you plan on using these magnets above this temperature.
Do neodymium magnets require surface treatments? Neodymium magnets that are not protected with a surface coating (such as plating) may rust in humid conditions. (top)
What common bonding applications are used for neodymium magnets? Neodymium magnets are often assembled into products using "super glues" such as Loctite 325. As with all bonding applications, please ensure that bonding surfaces are clean and dry (prior to bonding) for best results.
What is a permanent magnet? Permanent magnets represent the majority of magnetic materials available today. A permanent magnet is made from ferromagnetic materials, which have magnetic fields that do not turn on and off like electromagnets. We carry a large inventory of permanent magnets; neodymium, alnico, ceramic (ferrite) and samarium cobalt, in a wide variety of shapes, sizes and grades.
What is a rare-earth magnet? Rare-earth magnets are the strongest type of permanent magnets available today, and produce significantly stronger magnetic fields than ceramic (ferrite) or alnico magnets. There are two types of rare-earth magnets; neodymium and samarium cobalt, both of which are available for on-line purchase. Click here to learn more information about magnetic materials.
How are magnets rated? Magnets are typically rated by their residual induction, coercive force & maximum energy product. This refers to the maximum strength that the magnetic material can be magnetized to.
What does "approximate pull Info" mean? The approximate pull info listed for Neodymium magnets are for reference only. These values are calculated under the assumption that the magnet will be attached to a flat, ground 1/2" thick mild steel plate. coatings, rust, rough surfaces, and certain environmental conditions can significantly reduce the pull force. Please be sure to test the actual pull in your actual application. For critical applications, it is suggested that the pull be de-rated by a factor of 2 or more, depending on the severity of a potential failure.
What safety precautions should be taken into consideration when working with neodymium magnets? Neodymium magnets are hard, fairly brittle, and high in magnetic strength. They can snap together with great force, so please ensure that all personnel handling these magnets are aware to handle them carefully in order to avoid injuries. They can also chip or break if dropped or if snapped together, so please take special care when handling these powerful magnets!
---
We recommend ferrite magnets when:
used outdoors
exposed to temperatures over 80 °C
For outdoor use we also carry some rubberised super magnets.
Also in our Magnet-Shop: Self-adhesive neodymium magnets e. g. as clasps for paper and cardboard articles, for name tags and arts & crafts.
The Online Shop for strong Neodymium Magnets!
Buy powerful neodymium magnets on-line tdoay! Our Magnet-Shop carries a large inventory of neodymium magnets, available in discs, blocks (rectangular & square), rings, and rods in a wide range of shapes and sizes, not all of which are shown on this website.
Neodymium (Neo or NdFeb) magnets are strong permanent magnets, and part of the rare-earth magnet family. Neo magnets have the highest magnetic properties, and are the most powerful commercially available magnets today. Because of their magnetic strength, neodymium magnets are the preferred choice for many consumer, commercial and technical applications.
Common applications for neodymium magnets include high-performance motors, jewelry clasps, audio equipment, POP displays, science projects, arts & crafts, model making, home improvement projects, hanging artwork & much more.
Because of the up to 50% higher energy product are our permanent magnets not to compare to conventional magnets!
We offer you, besides our low prices, constantly a large selection of magnets in different sizes and shapes. Our large inventory and the daily shipment ensure that we can also deliver larger quantities quickly and flexibly. When it comes to strong magnets, we are the right partner!
Helping You Design, Develop, And Produce Innovative Magnetic Products
Application Assistance. Get insights that give you confidence in selecting the right magnets. At Magnosphere Magnets our goal is to understand your project and help you develop custom tailored solutions.
Just-In-Time Delivery. Same-Day shipping on all orders placed before 2 pm through DHL or UPS, Mon-Fri.
Custom Magnets. We produce custom magnets with quick and accurate lead time. Custom sizes and grades are available in Bonded or Sintered Neodymium, AlNiCo, Ferrite (Ceramic), Rubberized, and many more materials. We provide design & engineering assistance, and rapid plastic prototypes. If your application consists of a magnet embedded into a plastic or metal part, we can usually produce the entire assembly. If you need large production runs of magnets or assemblies, we can help.
Licensed Magnets. All magnets bought through Magnosphere Magnets are guaranteed to be legal. Many neodymium magnet production processes are patented, and neodymium manufacturers are required to pay a license fee in order to legally sell NdFeB magnets (covered by patent protection) in the US.
---
Buy Neodymium Magnets online
Neodymium Iron Boron ("Neo", NdFeB or Neodymium) Magnets are made from an alloy containing, amongst others, the elements Neodymium, Iron and Boron (NdFeB). The NdFeB magnets are the strongest type of magnet commercially available and are manufactured in a wide range of shapes, sizes and grades. We offer 53 grades of licensed standard corrosion resistance Neodymium Iron Boron and now an additional 72 grades of improved corrosion resistance Neodymium Iron Boron, each type with 30 types of coating finish for each grade (125 grades in total with 34 finishes – 4250 combinations).
The NdFeB magnets are anisotropic sintered magnets – the alloy is jet milled to a fine powder and is then compacted in the presence of a magnetic field to give it a preferred direction of magnetisation. The NdFeB magnets are then sintered to fuse the powder together before final machining and magnetising produces the completed super strength Neodymium magnet.
The Neodymium magnets are also known as Neo magnets, Neodymium Iron Boron magnets, Neodymium-Iron-Boron magnets, Neodymium Magnets, NdBFe magnets, NdFeB magnets, NIB magnets, Super Strength magnets and Rare Earth magnets (please note that SmCo is also called a Rare Earth magnet). NdFeB is called a Rare Earth magnet because the Neodymium is a Rare Earth element, having a value of 60 on the Periodic Table. For note, there is nothing rare about Rare Earth magnets – the required elements are readily available and the NdFeB magnets are produced in several hundreds of tonnes each year.
The Neodymium Iron Boron magnets (NdFeB magnets) were developed just over 25 years ago and were first commercially available in 1984. Neodymium magnets were initially developed for voice coil motors in computer hard disk drives and this market still accounts for over 50 percent of all Neodymium magnets produced. Other applications include high performance motors, brushless DC motors, generators, magnetic separation, magnetic resonance imaging, sensors and loudspeakers. They are becoming increasingly popular across a wide range of novelty products such as fridge magnets and all kinds of magnetically attachable gadgets for retail markets.
The NdFeB (NIB) magnets, in disc and ring forms, are usually axially magnetised (the round ends are the magnet poles). Diametrically magnetised discs and rings can be produced upon request (looking at the circular end face, the magnetism runs from the 12 o'clock position to the 6 o'clock position in diametrically magnetised magnets). Likewise, the rectangular blocks can be specially produced to be magnetised in any of the three axes (the magnets cannot be re-magnetised in another axis due to the method of production – the sintered NdFeB is anisotropic). Arcs, trapezoids and other shapes can generally also be produced. Bespoke Directions of Magnetisation within the magnet shape may also be possible (subject to confirmation) e.g. for Halbach Array assemblies.
If you require a bespoke/custom Neodymium Iron Boron (NdFeB, NIB, Neodymium, Neo) magnet or magnetic assembly, Technical Support or our NdFeB Technical Data Sheet, please contact us. And please feel free to browse our NdFeB-Info web site (logo link to the bottom left of this page) for addistional technical information on Neodymium Magnets.
---
Super Strong Neodymium Magnet is one of the world's strongest and most powerful rare earth magnets. We manufacture every piece in state of the art ISO certified Magnet manufacturing facilities to ensure maximum quality.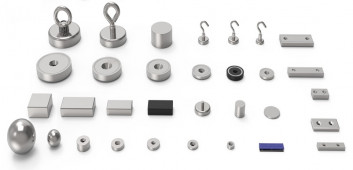 PURCHASE NOW AT MAGNOSPHERE - Super Strong Neodymium Magnet
Our Neodymium magnets are available in a range of shapes and sizes, offering a superior pull performance to other materials with the same volume, thanks to their NdFeB properties. Explore our wide range of super-strong Neodymium magnets.
Magnosphere Magnets Neodymium rare earth magnets are stronger than the strongest ceramic magnets! Each magnet packs a huge magnetic energy punch and will last forever under normal use. Unlike most other types of magnets, Magnosphere Magnets Neodymium is highly resistant to demagnetization and will not lose their magnetization around other magnets.
Magnosphere Magnets is able to offer you the high quality Neodymium magnets with consistent performance. This Super Strong Neodymium Magnet is extremely powerful and built to last. It's designed & manufactured under stringent, top quality standards using the latest technology to ensure you receive the best Neodymium Magnet every time.
As the leading manufacturer of Neodymium magnets, Magnosphere Magnets is able to offer you the highest quality Neodymium magnets with consistent performance at the lowest price.
The Magnosphere Magnet - Super Strong Neodymium Magnet is one of the world's strongest and most powerful rare earth magnets. We manufacture every piece in state of the art ISO certified Magnet manufacturing facilities to ensure maximum quality.
STRONG - Neodymium Rare Earth Permanent Magnet
POWERFUL - Magnosphere Magnets Rare Earth Neodymium Magnets have an extra strong pull force and are triple layer coated (nickel-copper-nickel) for maximum durability and protection against corrosion.
USEFUL – Use your rare earth magnet for just about anything, including finding studs in your wall, fastening, lifting, hanging objects, various projects & presentations, education, & more. NASA even uses them on Mars Exploration Rovers!
---
Main Details:
Most NEO Magnets are magnetized axially through the thickness with poles on the long flat surfaces.
Triple layer coated (nickel-copper-nickel) for maximum durability and protection against corrosion.
Manufactured in state of the art ISO certified Magnet manufacturing facilities to ensure maximum quality.
Useful for just about anything including fastening, holding, hanging objects, finding studs in walls, and more.
Made from Neodymium, Iron, Boron and other minor elements.
Resistant to demagnetization.
---
Notice:
WARNING: Fingers could be severely pinched between two or more magnets.
KEEP OUT OF REACH OF ALL CHILDREN. THIS IS NOT A TOY. DO NOT ingest or inhale.
DO NOT place in nose, mouth or any other part of the body. Neodymium Magnets are BRITTLE.
They can SHATTER, CRACK, PEEL or SPLINTER if allowed to snap together or slam into a metal object.
Broken magnets can be Extremely SHARP. MAGNETIC MEDIA AND ELECTRONIC EQUIPMENT HAZARD.
KEEP AWAY from PACEMAKERS Do Not cut or drill Neodymium Magnets, there is a both a fire and fracture hazard and the dust is toxic.
---
How to Safely Seperate Your Magnosphere Magnets?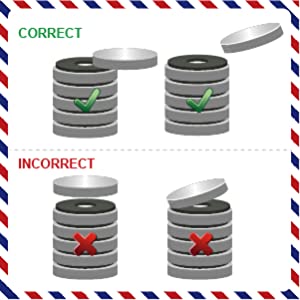 CORRECT
Slide one magnet off the top of the stack.
Once off thestack,carefully start lifting the magnet.
Lift the magnet to free it from the stack.
INCORRECT
DO NOT attempt to pull, lift, or pry amagnet from the stack before sliding it to the side.
DO NOT throw away the white storage spacers.
DO NOT allow the magnets to snap to each other or any magnetic surface. doing so may cause magnets to break!
Permanent magnet comparison charts: Click here to view
---
NdFeB
Neodymium Iron Boron (NdFeB) magnets are a type of rare earth alloy with typical atomic structure of Nd2Fe14B which stands for 2 atoms of Neodymium, 14 atoms of Iron(Fe) and one atom of Boron. The sintered Neodymium Iron Boron magnet has higher magnetic properties compare to Samarium Cobalt magnets, however it is more easily oxidized and generally does not have the same temperature resistance. The highest energy products for Neodymium Iron Boron could reach 52 MGOe commercially or more.
Magnosphere is a manufacturer of standard and custom rare earth magnets for the OEM industry. Materials used include sintered and bonded neodymium iron boron, samarium cobalt, aluminum nickel cobalt, ferrite (ceramic), and rubber. Available in various shapes and forms, including discs, rods, plates, cubes, rings, tubes, and spheres. Various magnetization options available. Applications include retail fixtures, motors, sensors, and many more. Magnets for whiteboards, glass boards, and mounts are also available. Capabilities include plating, coating, magnetization, design, simulation, 3D printing or prototyping, plastic injection molding and production. Services include assembly, testing magnetic materials BH curves, coating, plating, engineering design, magnetizing, marking, identification, stabilization, calibration, testing & certification. Markets served include aerospace/defense, medical, industrial, research labs, semi-conductor & telecommunications. JIT delivery!
---
Neodymium magnets can be fabricated into many shapes and types:
When buying magnets, be sure to read our safety instructions before using the magnets to avoid injury. A powerful neodymium magnet is not a toy!
---
What are Rare Earth Magnets?
Rare earth magnets, also known as neodymium magnets or samarium cobalt magnets are magnets made from alloys of rare earth elements. They are currently the strongest type of permanent magnets made, and produce significantly stronger magnetic fields than other types such as ceramic or alnico magnets. Rare earth magnets have replaced alnico and ferrite magnets in many applications, including head actuators for computer hard disks, magnetic resonance imaging (MRI),loudspeakers and headphones, several types of motors, and more.
---
Neodymium (Rare Earth) Magnets: the strongest magnets in the world
Magnosphere offers best priced Neodymium magnets globally. Please inquire for custom Neodymium magnets or magnetic assembly. Neodymium is the strongest available magnet alloy at up to 52MGOe. The use of Neodymium results in smaller, more cost-effective magnet solutions replacing older materials like Alnico and Ceramic in many applications. Magnosphere.can help optimize performance and cost with Neo magnets in grades from 33 to 52MGOe and operating temperatures up to 230°C/446°F. (NdFeB) Neodymium, a rare earth magnet, is made up of Neodymium Iron and Boron and is moderate in price. A neodymium iron boron magnet is usually plated or coated (Examples: Nickel Plated, Epoxy Coated, Parylene Coated). Neodymium permanent magnets usually offer the best value when comparing price and performance. Stock Neodymium magnets are available in large quantities and dimensions.
---
Rare Earth Neodymium NdFeB
We provide a range of high magnetic strength Rare Earth Neodymium magnets including Disc magnets, Deep Pot magnets, Shallow Pot Neodymium and Round flat neodymium magnets,
Neodymium NdFeB magnets are, size for size, the strongest type of any magnet material that is commercially available.
Neodymium NdFeB magnets are often the ideal first choice for many applications because they offer a maximum performance from the smallest magnet volume.
Neodymium NdFeB should always be coated to guard against the risk of corrosion – NiCuNi, Zinc, NiCuEpoxy and Gold are popular finishes.
Our Magnet-Shop carries a great variety of these powerful magnets to fit many different applications and they are in stock for immediate delivery!
---
Neodymium NdFeB magnets and their application!
At Magnosphere.co.uk, we sell custom Neodymium NdFeB magnets and custom magnetic assemblies so we can help you find the best fit for your project. Some of the common applications of the rare earth magnets are:
Motors and Generators
Meters
Automotive (clamps, sensors)
Aerospace
Separation (rods, grids, etc) – 10-12kG (22-26lbs) systems
High performance magnetic clamps and pot magnets
They are used in computer hard drives.
Rare earth magnets also find their utility in high-end speakers.
---
Based on the applications and properties earth magnets are of two types:
Neodymium Magnet
Samarium-Cobalt Magnet
---
Process of Making Rare Earth Magnets
The rare earth magnets are made by using different process involving various stages. The popular stages of the production of rare earth magnets are:
The first stage is the manufacture of rare earth element alloys.
The metal alloy is then finely powdered.
The next step involved is pressing of powder either isostatically or pressing through die process.
The particles so pressed are oriented.
Sintering of the element is done accordingly.
The shapes are then sliced into desired shapes and sizes.
The coating is done thereafter.
---
What are Neodymium Magnets?
Neodymium Magnets (NdFeb) are a rare earth metal that has incredibly strong magnetic properties. These permanent magnets are the strongest magnets known on earth and have a magnetic force more than 10x stronger than traditional fridge magnets. This attribute makes them incredibly dynamic and practical to work with and has led to the innovation of many new technologies in the 20th and 21st century.
---
How are Neodymium magnets made?
Neodymim magnets are manufactured with the following machines and methods; strip cast, jet mill, press, sintering, grinding, wire cutting, plating and magnetisation.
---
What is the difference between grades N35, N42, N45, N52?
Grades of Neodymium range from N35 to N52. The number after the letter represents the maximum energy product, magnetic density, or 'power' that a magnet has. The higher the number, the stronger the magnet.
---
Can heat destroy Neodymium magnets?
Standard Neodymium magnets have a heat tolerance of 80°C and exposing them to temperatures higher can affect the magnet. The performance of the magnet can restore once cooled unless the temperature raised to the Curie temperature, which is the temperature that magnets permanently lose their magnetic properties.
We can custom manufacture Neodymium magnets to withstand up to 220°C. Please see section below for more information.
---
Can I choose heat tolerances?
A magnet's coercivity, or "Hci" refers to the magnets ability to withstand demagnetisation through high temperatures. When manufacturing magnets, a magnet's coercivity is defined by the letters after the grade, for example, the "M" in N52M. Any magnets without a letter after the grade (i.e N35, N45, N52) have a heat tolerence of up to 80°C.
---
Available Heat Tolerences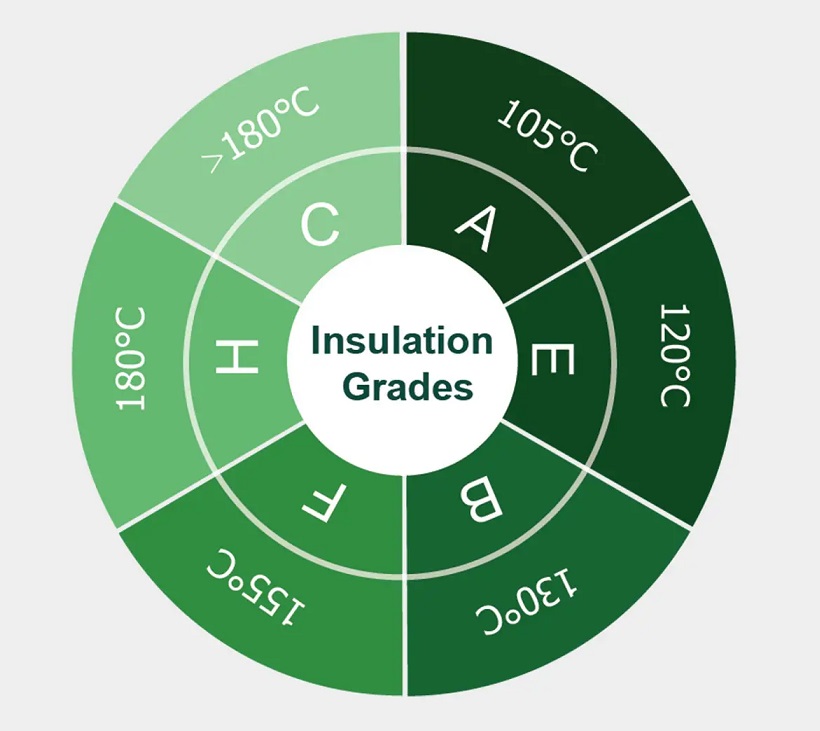 High Heat Resistance - Working Temp. H-120°C, SH-150°C, UH-180°C, EH-200°C, TH-220°C
No letter – 80

°C

M –

100

°C

H –

120

°C

SH – 150°C

UH – 180°C

EH – 200°C

TH – 220°C
---
When was Neodymium discovered?
Although Neodymium was discovered in 1885 by Karl Auer, it was only in 1983 that Neodymium Magnets as we know today was invented almost simultaneously by General Motors and Sumitomo Special Metals and these strong and versatile magnets have spearheaded innovation in the green energy, medical and technology sector. These Neodymium magnets are small but generate an incredible amount of power and it's this power that led to the miniaturization of many technologies like drills, heavy machinery, smart phones, sound speakers, computers and many more. They are commonly used in industries such as retail, engineering, plastic moulding, DIY, crafts, furniture making, science research & experimentation, education and many more.
---
Purchase Now: Neodymium Magnets online
---
We ship our Magnets worldwid via Sea or Air Shipment
---
Buy Neodymium Rectangular Magnets at Magnosphere and get a better deal!
Magnosphere produces magnets at great prices, produced and delivered on time for all areas of industry, automotive, aerospace, electronics as well as in the design sector, trade fair construction, offices and for the home.
We are an ISO certified shop and carry the Trusted Shops seal. We have successfully completed more than 300,000 orders and offer our ever-growing customer base 24/7 customer service.
All items are available for immediate delivery in large numbers with daily dispatch. Our selection is your win! Thousands of satisfied customers! Buy from a company with the highest quality standards and customer service with flexible and diverse payment options and conditions.
We can also custom manufacture these to fit your exact specifications using our in-house global manufacturing facilities and team of experienced engineers. Need high quantities of magnets at the lowest and fairest price possible? Just let us know what you are looking for and contact our Customer Care Team by sending us a request for quote! We'll work with you to determine the most economical way of providing you with what you need.
Trust in our experience and convince yourself of our service and our products and we look forward to welcoming you to our magnet shop at Magnosphere. You are welcome to contact us by eMail: info(at)magnosphere.co.uk. Available 24/7 x 365 and we are also there for you on public holidays! Or just give us a call.
---
ROHS-Directive

Magnosphere conforms to the RoHs directive and the Reach and PFOS regulations. Directive 2002/96 / EC of the European Parliament and of the Council, of January 27, 2003, on waste electrical and electronic equipment (WEEE).
---

We are very proud to offer excellent customer service. We know that without our clients, we would not be here. If you have any questions about your order or something else, please call or email us!: info(at)magnosphere.co.uk
24 / 7 x 365 Including holiday periods! Our customer service team is available to help you!